Strandbungalow
op het strand
van Katwijk
Slapen op strand
Genieten van zon zee en zand
Voor de ideale strandvakantie in Nederland kun je terecht bij het grootste strandresort van Katwijk. In onze strandchalets vind je alles wat je van een vakantiehuisje op het strand kunt verwachten. Op de eerste rij, met uitzicht op de eindeloze noordzee en het altijd bruisende strandleven drink je een glaasje op je eigen priveterras, terwijl de kinderen spelen op het strand in het zand. Een unieke vakantie met strand, zand, zon, zee en duinen als decor.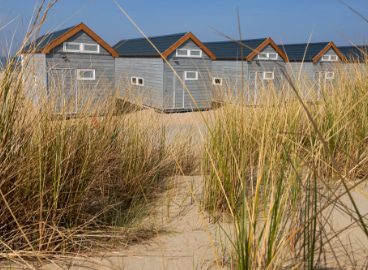 Onze strandhuisjes bevinden zich op loopafstand van het grootste centrum van de Nederlandse kust, direct onder de vuurtoren van Katwijk, wat toch ook al de moeite waard is om te bezoeken en te beklimmen. Zelfs regenachtige dagen mag de vakantiepret niet drukken: Dankzij de uitstekende verbindingen met het openbaar vervoer stopt er iedere 5 minuten een bus bij ons resort, zodat je binnen een mum van tijd in Leiden, Den Haag of Noordwijk zit.
Vanaf je strandbungalow zit je gegarandeerd binnen een half uur bij de beste binnenactiviteiten zoals bioscopen, verschillende musea, indoor speeltuinen en natuurlijk Naturalis. Of je nu een romantisch uitstapje voor twee naar zee wil doen of een familievakantie aan de Nederlandse kust, dankzij de unieke ligging en alle faciliteiten die Katwijk biedt kun je onbezorgd genieten.
Wat is er trouwens leuker als je je (klein)kinderen kunt opzoeken terwijl ze genieten van een Nederlandse strandvakantie? Alle opa's en oma's boeken een pension, bed en breakfast of hotel aan of nabij de Katwijkse boulevard, op loopafstand van ons strandresort. Leuk om te plannen, nog leuker om te verrassen!